CACTI AND OTHER PLANTS 2018, PT, 21 min
a film by CAMILA VALE



In today's Barreiro, Camila and Gabriel find each other. Between margins and the slow grow of the cacti, they discover in each other the means to feel the absence that crosses them.
Interview with Camila Vale

NOVOCINE:
Your films explore a plastic dimension where what we hear and what we see serve very different purposes, as they evoke images that we are not necessarily seeing, is that part of your intentions?
Camila Vale:
I really like the idea of a cinema that goes beyond what we see and hear. In the sense that the way I shoot certain images can, sometimes, be very visceral and the sounds that are recorded in a specific way, very close to the subject, can provoke a bodily and physical reaction in the viewer. Sometimes, those reactions can be states of total immersion or even a certain discomfort. At the time I was writing
Cacti
, I was really into ASMR, people eating or talking very quietly and very close to the microphone, some videos were super relaxing but others caused me some discomfort.
NC:
In
Cacti and Other Plants
, you're the protagonist. Is this the first great example of this gesture in your filmography? How is the casting process in your films?
CV:
I had already done some video exercises with my body - quick things that I really wanted to shoot and at the time it was just me there so I had a very exact idea of what I wanted and would just film it. Besides, I've always liked to put myself in extreme physical situations such as being very cold, very tired, very hungry. As soon as there's an "action", it's a mission for me - at least I see it that way, it always becomes an exercise. In the case of
Cacti
, the story started the summer before we began shooting the film. I was in an emotionally difficult place at the time and Gabriel, who was 10 years old then, approached me and asked me why I was sad. We were on a summer afternoon at a swimming pool. Children, amazing as they are, can't understand why the hell would a girl be crying standing by a swimming pool. At the same time, I saw a lot of affection on his part to stop playing and come up to me to ask me that. In this case, this is the answer: the film began with my relationship with Gabriel, which transformed itself during the process of the film and became a story of caring, cherishing and getting to know each other. So it could only be me and Gabriel acting in the film. We did a little casting call to see how it went in front of the camera and to show the rest of the crew and we understood right away that there was something there.
NC:
In
Cacti and Other Plants
, the main character is a young adult who lives alone, somewhat lonely and in the process of becoming a flight attendant, whose life intersects with that of a boy who ran away from home and is taken in by her. In
Savagery
(film that follows Cacti), your character is a girl who fixes television sets and electronic material, maintaining a sensual and curious relationship with a webcam girl. These are two films you made sequentially, in which you write, direct and star in. What is the relationship between these two characters that you created? Are they two different people?
CV:
In
Cacti
, there was a very direct relationship with my life - I had actually gone on an interview to become a flight attendant and had given up on cinema. And I was accepted, but then I met Gabriel. I believe the character in
Savagery
is the consequence of the Camila in
Cacti
. In
Cacti
, there's a tension between the concerns of adult life vs childhood. Camila seems to have some fears while Gabriel, despite being very young, is brave and walks alone. In
Savagery
, I explore different types of love and physical relationships. Obviously they are related, the two Camila's continue to look at the world in the same way, taking care of something or someone.
NC:
The song that accompanies
Cacti and Other Plants
works as a theme that, besides conducting the film, defines it and keeps on recalling its mood. The opening prologue stars with the song. Was this premeditated?
CV:
The opening theme for
Cacti
was inspired by the movement Gabriel is doing in the first shot, which is funny because this is something we shot without him realising it and it wasn't on the script. In other words, I think it conveys exactly Gabriel's youthful, carefree and intuitive self.
NC:
How did the work with the musician Pedro Tavares (
funcionario.bandcamp.com
) in both
Cacti and Other Plants
and
Savagery
take place?
CV:
Pedro and I have been working together since my first film and we continue to this day. All themes are original and created for the films.
Cacti
was the first film we worked on together and it was more about the soundtrack. In the following films we worked on the editing, foleys and the soundtrack. We realized we have a very similar way of creating these sound spaces.
NC:
How is your work process, not only creatively but also on a practical level? What constraints and freedoms have you encountered?
CV:
Well, I had the luck / misfortune to make my films without any funds. Luck in this case because I worked with a group of talented colleagues and friends with whom I shared ideas and collectively made these films. Sometimes I feel I have a hard time coming up with a finished idea before I start shooting because there's always so much that changes during the process. And actually the process of filming it is what gives me the most pleasure. There is a collective spirit and sacrifice. Many hours without sleep. Those memories and experiences stay with us until we we finally premiere a film somewhere and sometimes I wish it were possible to share it more with the public. As I usually film in homes, I really enjoy having a moment to cook for the crew and the actors. It's a moment where everyone is relaxed and it gives me time to think because I'm focused on something else.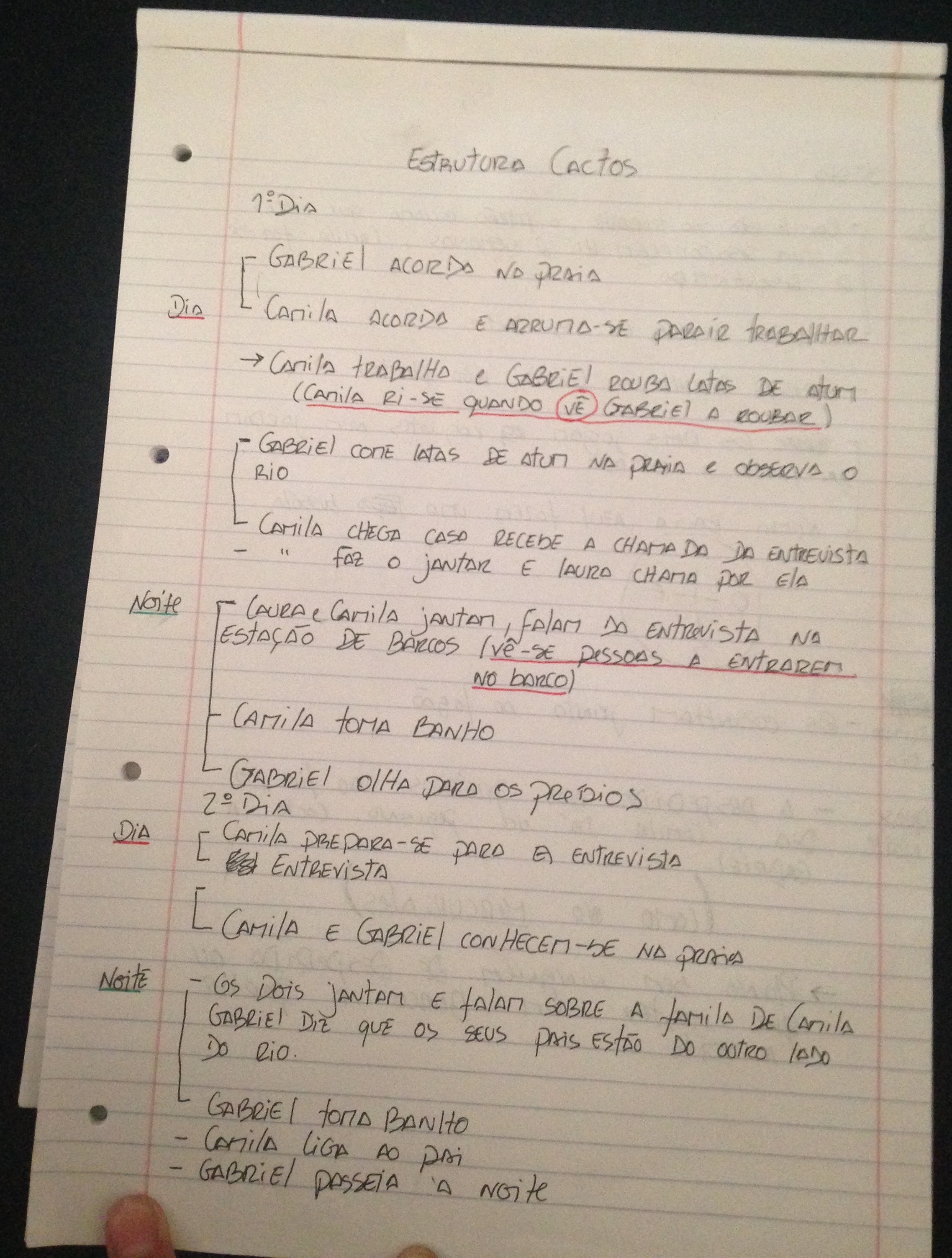 NC:
How does your interest in archival cinema and found footage, along with the work with film development, influence your films and how do you think cinema itself? Which brings us to another question: What are you working on right now?
CV:
I've come a long way with film actually. I had a laboratory with Margarida Albino and I've been teaching Super 8 in Ar.Co (Centro de Arte e Comunicação Visual) for 5 years and I have a huge archive of home movies. My relationship with film is difficult to explain but I believe it's linked to your first question: the importance of materiality in my projects. In this sense, celluloid offers a wide range of handling possibilities. There's a creative freedom that comes from doing things with your own hands, at least the way I see it. I am currently doing a Masters Degree in Archive at Elias Querejeta Zine Eskola and my project is about the manoeuvring of analogue copy machines, more specifically the potentials of the
Optical Printer
- the concept I am working on is the erotic dimension in the domestic space. Which, now that I see it, is an idea that is extremely linked to my films, actually.
NC:
Would you be able to choose some references that represent a direct or indirect influence on your work or simply objects that you consider unique en relevant?
CV:
Directly and more in relation with
Cacti
, although his films are a constant inspiration for me,
Tsai Ming Liang
. He was the first director with whom I identified with and realised that this type of cinema existed, in which inside a glass of water there's a whole universe of bodies that are moving in cities. Lucrecia Martel's films are also a big inspiration, mainly in her use of off-screen sound and the importance of sweat and touch. As for influences in moving image, Eija Liisa Athila and Anne Charlotte Robinson's works move me particularly because of a certain feminine and emotional sensitivity they approach. These alienated characters try to climb the steps of age - childhood, adolescence, adulthood… There's a scene I'll never forget that is Adele (
Blue is the Warmest Colour
) eating spaghetti bolognese. I love a film that makes you want to eat when we leave the cinema! Even today whenever I eat bolognese I remember Adele eating it and licking her fork. The bathroom, the kitchen and my neighbours are my great inspirations. Mostly, taking a bath.
script and directing CAMILA VALE cinematography CAMILA VALE, MIGUEL TAVARES editing CAMILA VALE, MIGUEL TAVARES sound JOÃO RAMOS, ELOÍSA SILVA with CAMILA VALE, GABRIEL ALBINO, CAROLINA MOURÃO, CLÁUDIA DE PALOL, ELOÍSA SILVA, INÊS DO CARMO, LEONOR GUERRA, MADALENA REBELO, MAURO CORDEIRO, MIGUEL TAVARES, TIAGO SOUSA original score PEDRO TAVARES production FILMES SIMULACRO