NYO VWETA NAFTA 2017, MOZ, 22 min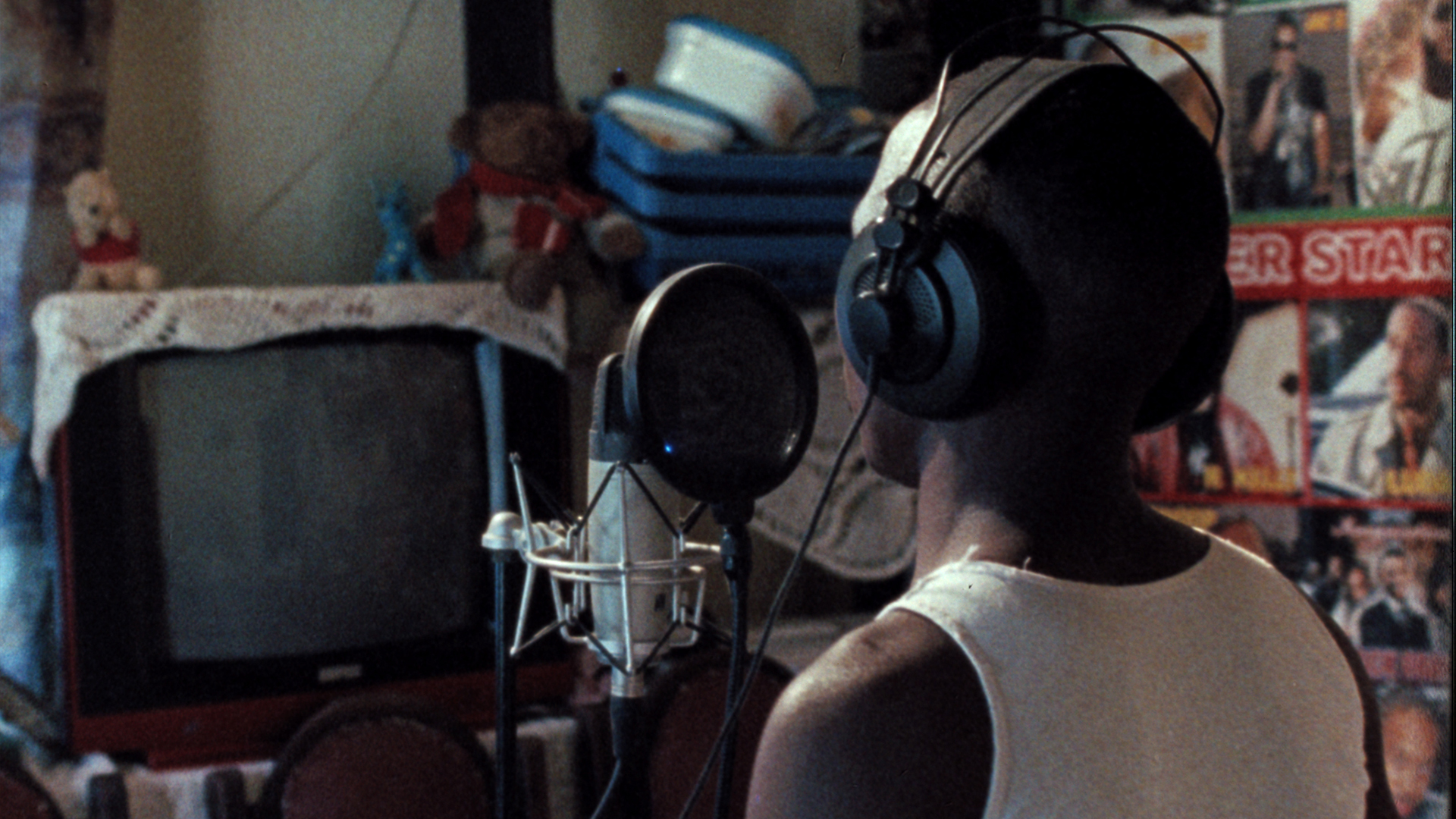 a film by
Ico Costa
Inhambane. Mozambique. King-Best. Samsung Galaxy. Versace. Babes. White rooster. There are no toothpicks in Norway. Coconut trees. Baobab fruits. Superfruits. Vitamine C. Passiflorine. Alpha-linolenic acid. SMS in Chinese. Megabytes. Hotel Cardoso. Coffee is a white man's addiction. Ngadzango. My woman. Nafta.

Novocine: "Nyo Vweta Nafta" opens with a man walking through the streets of a market looking for a girl called Nafta, but the camera ends up losing sight of him and he catches a ride on the way to another story. How do you feel the visual style of the film, wandering and free, combines with the story you tell?
Ico Costa: I went to Mozambique to make a short film without knowing which one. I had no idea, much less a script. At the same time, I really wanted to find a great friend that I had met in 2010 when I lived in Mozambique and with whom I had lost touch. Somehow I wanted to incorporate that into the film, as the demand for stories to film coincided with the demand for finding Nafta.
The whole movie is kind of improvised, ideas written down on paper a few weeks before shooting started. I think the visual style of the film goes hand in hand with this production method.
NC: In the sequence that accompanies the couple riding a motorcycle, we hear the boy who promises his girlfriend to buy him a series of goods that enumerates, almost in a list, a vast number of brands. The scene that follows, where three boys are talking, and one of them explains his idea of wealth from his older brother's purchasing power, and other well-known brands are listed: Nike, Adidas, Reebok, Canon, among others. How do you observe this relationship between the western capitalist market and its abundant presence around the characters?
IC: Most of the dialogue in the film was inspired by conversations overheard on the street or conversations with people I had just met. I hope I'm not too wrong in what I'm going to say, but I feel that it was in the 2010's that the ownership of branded items began to form a certain ideal of prosperity for Mozambican society, as would have happened 20 or 30 years earlier in Portugal. This is the time when Chinese industry and companies importing Chinese goods set up in Africa, resulting in a flood of counterfeit clothing from North American and European brands. It is also the time when the first smartphones begin to appear. These and other conversations came about quite naturally.
NC: "Nyo Vweta Nafta" does not have a direct translation into Portuguese, it is a term from a local Mozambican language called Guitonga (language spoken in Inhambane). The title can be interpreted as "Looking for Nafta". How was working with "non-professional" actors and to what extent did this decision contribute to the construction of the narrative you propose?
IC: Working with non-professional actors has always seemed logical to me, especially since in Inhambane there aren't even professional actors. And I wanted to take advantage of what the guys had to say, according to their way of speaking. There are written dialogues, but others are completely improvised, which happens a lot in my other films made in Mozambique. Having just one thing or another doesn't satisfy me and over time I've learned that non-professional actors, by giving them the necessary confidence, always manage to say more interesting things than I could have imagined.
NC: "Nyo Vweta Nafta" marks a radical departure from your previous films. What led you to write this film and more specifically, how did your connection with Mozambique begin?
IC: Yes, there was a change, but it came about almost by chance. I had won a small amount of financial support for a fiction short film to be shot in Portugal, but it seemed too demanding for the money I had. At the same time, I had gained my first ICA support for writing and development, with a feature film project being shot in Mozambique. I decided to take advantage of the
répérage
trip to film something, I still didn't know what. I needed that change, I wanted to try doing something more freely, improvised. A friend of mine, Eduardo Williams, had done something like this in Vietnam, and that way of working was undoubtedly a huge inspiration. He ended up helping me with the editing and this can be felt in the film.
NC: How do you position yourself regarding the historical and cinematographic relationship between Portugal and the Community of Portuguese Speaking Countries?
IC: I am not a film historian to speak with authority on this subject, but I feel that there are not many films by Portuguese filmmakers in Mozambique or other PALOP countries in which the main characters are people from these countries. Not a single one comes to mind. Now, there are plenty of films about white people in Africa, about the problems of white people in Africa, there are plenty, and they continue to be made in 2023, much to my surprise. As much as these films sometimes have a slightly critical point of view in relation to the Portuguese presence in Africa, they often also contain something of nostalgia and are often made by people who were born in the former colonies and who, perhaps for this reason, want to tell their own stories, having lived there, I don't know. I don't see that happening with English, French or Spanish directors, it's a very Portuguese phenomenon, from a society that is still far from having resolved itself with its colonial past. And deep down they end up being films with quite questionable themes and production methods. You arrive in a poor country with half a million euros, a team of 40 people, to film the story of some white people who are depressed during the colonial war in Mozambique, Angola or Guinea, and then they leave. Africans play the secondary characters and drive the production vans. It's funny or sad how more and more foreign films set in Lisbon or Porto (those colonies of modern times, which appear as picturesque backdrops) spoken in English or French, are now appearing. They are colonialist films, deep down. It is possible that my short film Libhaketi (filmed in 2010) was the first film ever spoken in Guitonga and one of the first in Mozambique not spoken in Portuguese. Since then, films have started to be made in Changana, Ronga, Shitsu, or other languages.
NC: We know you're back in Mozambique with a new project, what can you tell us about it?
IC: I have two feature films almost finished, one filmed in 2019, another in 2021, a documentary and a fiction. They are quite different films, but somehow end up being portraits of Mozambican society, each in its own way.
I can't say why I keep filming in Mozambique. As I always film with relatively few means, there is always a
répérage
that becomes a shoot and a project that pushes for another and then another and another. I'm always meeting new people who fascinate me, themes that ask to be filmed. I'm from Lisbon but I can't imagine ever filming there, as much as that would allow for much more comfortable shooting. Filming in Mozambique is difficult. In addition to the distance, it is a country that lives in a constant state of calamity, whether due to the economic situation, the floods, the war, the fact that it is not a democracy, despite the Portuguese State seeing it as such. Now there is a new pandemic: heroin, which is destroying the lives of young people and their families. But we don't talk about it, the Mozambican government doesn't want to talk about it.
I don't know if I will continue to film there for much longer, but this year I must go there again, again with a camera and without a script.
director and screenwriter
ICO COSTA
with
ZACARIAS COVELA, DOMINGOS MARENGULA, ÉDIO PELEVE, BELTON GUILADE, KING BEST, MIMÓRCIA NHATUMBO, VIVALDO ZANDAMELA, HÉLDER TINGA, BIG JOHN e CARLOS HERNANDEZ
production director and assistant director
VASCO COSTA
production assistants
RICARDO CUMBE, HÉLDER TINGA
director of photography
HUGO AZEVEDO
sound director
ROLAND PICKL
editors
ICO COSTA, EDUARDO WILLIAMS
sound editor and mix
TIAGO MATOS
colour correction
MARCO AMARAL
music
PUTO ZACA
translations, location and casting assistant
LUÍS DUZENTA
production support in maputo
JOÃO RIBEIRO
production manager in lisbon
CELESTE ALVES
post-production coordinator
MARTA LEMOS
executive producers
JOÃO MATOS, LEONOR NOIVO e ICO COSTA
support
FUNDO DE APOIO AO CINEMA DO INDIELISBOA, UNIVERSIDADE LUSÓFONA DE HUMANIDADES E TÉCNOLOGIAS, UNIVERSIDAD DEL CINE, UN PUMA, KANEMA PRODUÇÕES, JOSÉ MANUEL GRÁCIO, ASSOCIAÇÃO POSITIVO MOÇAMBIQUE